Calendar of Events
We're a year round community! Come to any of our workshops, training rides, special events, and social outings, and don't forget to bring a friend.

Portland Kickoff Ride
October 12
@ 10:00 am -
5:00 pm

Join us for the Portland AIDS/LifeCycle Kickoff Ride!
Are you ready to kick off the AIDS/LifeCycle 2020 season? The community in Portland sure is!
AIDS/LifeCycle Kickoff Rides are beginner-friendly, all-paces-welcome, and open to all! If you're curious about joining the Ride, this is a great way to get to know the community and go on a ride with us before deciding to register.
Stay tuned for more information, coming soon!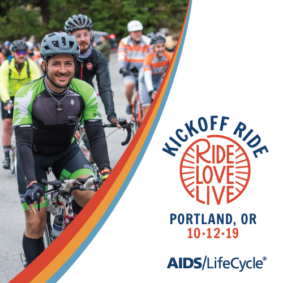 RSVP
Related Events