Training Rides

Choosing a Training Ride
Training rides are an important experience in group riding, a benefit to your own and everyone else's safety. You'll have to adjust to being surrounded by many other Cyclists, learn how to safely pass and be passed, and get accustomed to calling out signals so that others know exactly what you're doing. Official Training Rides are led by certified Training Ride Leaders.
It is important to choose a ride that is right for your skill level and ability. AIDS/LifeCycle Training Rides are group rides, and are rated in the following areas: Pace, Terrain and Miles. All three of these factors should be considered before you RSVP for a ride. We recommend, if you are still new to cycling, choose an 'All Paces' ride with low mileage. Check out the AIDS/LifeCycle events tab to find a ride near you.
Don't forget to RSVP so the Training Ride Leaders will know you're coming and can contact you if the ride is cancelled. Also, route sheets are printed out for all Cyclists by the TRL Facilitator so they need to know how many people are coming.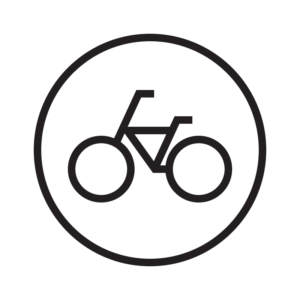 Pace determines the pace of the group you will ride with. The mph rating is the average speed of the group.
Terrain determines the elevation gain (climbing) of the ride based on a 1 (mostly flat) to 4 (steep/long climbs) scale.
Miles determines the distance of the ride. Don't choose a ride more than 10 miles longer than you've previously ridden.
Always read the entire route description for detailed information about the ride.
Meet Time
This is the time indicated on each ride when Cyclists should begin gathering. Please arrive promptly so that you can sign the necessary ride waiver and be ready to stretch and listen to the AIDS/LifeCycle Safety Pillars. You will not be allowed to ride with the group if you are not present for this information.
Leaving a Training Ride
At least one TRL will be riding with the last Cyclist(s) on all of our Training Rides to make sure that no one gets left behind and all Cyclists are supported. If for some reason you decide to leave the route, stop at a store or use a bathroom, you could find yourself riding behind the last group when you rejoin the route. If at any time you lose sight of other Cyclists and feel you are not on the correct route, pull over and call one of the TRLs for assistance. Also, if you choose to stop for the day or take public transit home, please let the Facilitator know.
Nutrition while Training
Be sure to keep your body fueled while you train for AIDS/LifeCycle! Click here to check out a great guide that goes over preparing for a ride, fueling on the ride, and nutrition for recovery when the training ride is finished!
It is recommended that you bring some on-the-go snacks when heading out to a training ride. Bars, blocks, and gels are great options – our bar sponsor, RX Bar, has some great options, check out their website here.
Bikes, Gear & Apparel

The Right Bike for YOU
There are as many different styles of bikes as there are cyclists. Since you will be spending many days in the saddle, it's very important that you choose a bike that you will be comfortable on. If you're shopping for a new bike, we recommend checking out one of our Community Partners and seeing all the brands and styles they have to offer. Be sure to your shop specifically that you'll be training for, and cycling, a seven day endurance event. Remember, this is a ride, not a race, and comfort should be the main priority when considering what style bicycle is right for you.
AIDS/LifeCycle is a 100% pedal­-powered ride. No motor assist bikes of any kind are permitted on the event for safety reasons. If you have any questions about alternative pedaling options for the differently abled, please contact an AIDS/LifeCycle Cyclist Representative.
Getting your Bike Fit
It is very important to make sure your bike is fitted to your body by a professional. Most bike shops will do a very basic check to put you on the right size bike frame, but you'll want a fit professional to look at the nuances of your body, including your physiology, flexibility, strengths, weaknesses and past injuries. The importance of proper bike fit cannot be stressed enough. You should be comfortable on your bike and free of chafing, numbness or pain in your knees, neck or back.
Cycling Gear & Apparel
These are the required items needed to participate in an official AIDS/LifeCycle training ride and on the event: Bicycle; helmet; water bottles or hydration pack (in addition to water it is important to replace your electrolytes – we're big fans of NUUN, who supports the Ride as a sponsor); bike frame pump or CO2 cartridges; patch kit/spare tube; tire irons.
We also recommend the following which are useful, but not mandatory: bicycle multi tool; bike seat bag or bento box; sunscreen; hand sanitizer; lip balm w/spf; bandages; bike computer; clipless pedals; sunglasses.
Choosing the right clothing is an individual and personal process. Clothing that is comfortable to wear for everyday exercise (quick­-drying/cooling) is a great place to start. Try wearing that clothing when you are out on your first couple of rides and ask a veteran Cyclist or Training Ride Leaders about their experience with the apparel they use. We recommend investing in a padded cycling short instead of using a cushioned bike seat!
Cycling apparel is designed with comfort in mind and is made of quick drying synthetic fibers. The fabric will absorb sweat and draw it away from the body and the surrounding air will then allow it to dry quickly to prevent chafing. Since we ride and train through various climates, it will be important to do some research to find out what works best for you. Prepare for all weather conditions and plan to layer your clothing. Recommended: padded cycling shorts; cycling jersey; rain jacket/shell; leg/knee warmers; arm warmers; padded cycling gloves; clipless cycling shoes/pedals; cycling socks.
Nutrition is also vital for performing your best on the bike. When you head out for a ride, be sure to bring along plenty of water, electolyte replacement drink, and fuel – things like Clif Bars or Clif Bloks to keep your energy levels up!
Some of our Community Partners offer discounts on cycling gear and apparel, so be sure to visit them when you are ready to buy. Earning our Thank You Gifts are another great way to add to your cycling wardrobe while getting closer to achieving your fundraising goal.