Be the first to know when we're back on the road.
We can't wait to get back on the route with our community. To receive updates and information about the 2022 season, fill out this short form and we'll stay in touch:
Join us on TogetheRide
For over 28 years, we've focused on ending HIV/AIDS, riding bikes from SF to LA to raise awareness and funds for our mission. Because HIV/AIDS is a global pandemic that affects us all, we've created TogetheRide, a nationwide movement committed to ending AIDS by harnessing the collective power of our community.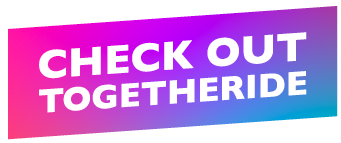 Through this commitment, we are raising $5 million to support San Francisco AIDS Foundation and the Los Angeles LGBT Center. And to honor the 1.2 million people in the U.S. living with AIDS, we're moving 1.2 million miles, together. All people, of all ages, are welcome to participate from anywhere in the world.
Set your own personal fundraising and mileage goals, and use the free TogetheRide app to track progress and stay motivated with some friendly competition. Whether you're a seasoned athlete or just getting started on a movement journey, you have the power to make a difference in the fight against AIDS and be a part of a supportive and enthusiastic community.