Safety Pillars
Due to the varied levels of cycling ability within the AIDS/LifeCycle community it is crucial that everyone adheres to the safety pillars. Your safety as well as the safety of those around you depends on it. If you receive feedback or instruction from a Training Ride Leader it is because they are thinking of your safety, the other Cyclist's safety and the future of our event. Listen to the TRLs, they reserve the right to ask you to leave a training ride if you do not adhere to all safety rules. If you have any disputes with what is asked of you please contact your AIDS/LifeCycle Cyclist Representative.
We take safety seriously and ask that you do too. Please become familiar with the AIDS/LifeCycle Safety Pillars below – they are guidelines to help you stay safe while riding alone or in a group.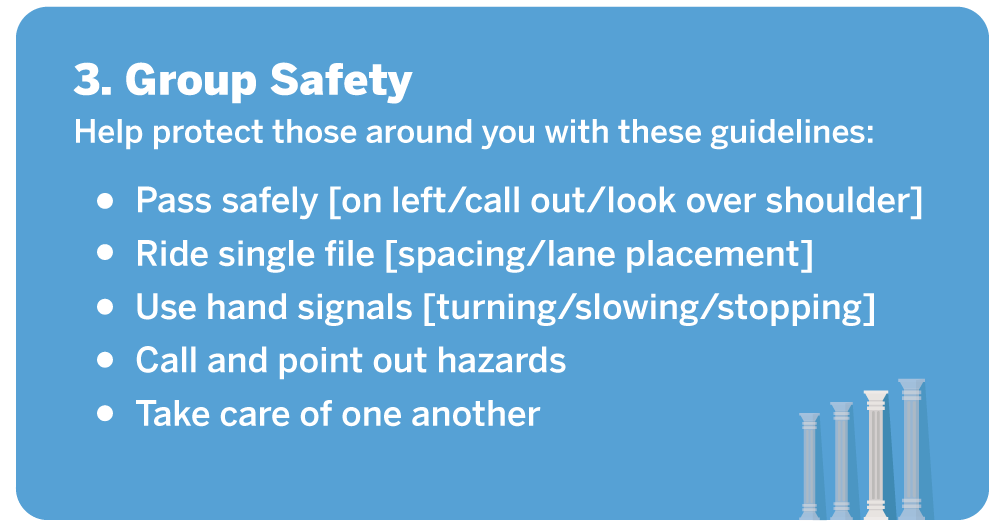 AIDS/LifeCycle is a diverse community, riding through a variety of neighborhoods. Please be thoughtful in your actions and treat those you encounter with kindness.
Want to bring the pillars to your ride? Click here to download a PDF with all the info you need.