We Ride to End AIDS
Each year, more than 2,800 people from across the nation and world come together. Over the course of a week, they make an epic 545 mile journey down the coast of California, from San Francisco to Los Angeles. In AIDS/LifeCycle 2017, 2,200 Cyclists and nearly 700 volunteers raised $15.1 million for critical HIV/AIDS services provided by San Francisco AIDS Foundation and the Los Angeles LGBT Center.
And we can't wait to do it again. Are you ready to change lives?
After living with HIV covertly for ten years, Hoa Su found the courage during the 2013 ride to come out publicly about his status.
Now Cycling with his two nieces, he says "it's great to have them ride in support of me."His nieces said that "We just want to show him that we love him, we care about him, and this is our show of support." "People from all of the world are here to support each other, and I want everyone to experience that."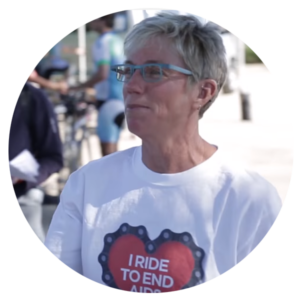 Carol Hedges, a 20 year Cyclist and PE teacher of 1st, 2nd, and 3rd grade students, leads by example to inspire the next generation to do great things.
"It's important for my students to know to give back, to do something to make a difference, so I talk to them about doing the Ride – about training and endurance, but I talk to them mainly about doing something to change the world. And they go back to class and they write these letters that we pass out on Day 3."

Team Boo Boo embodies the spirit of teams on the Ride. "We ride to raise awareness to end AIDS. We ride together just about every Sunday, we fundraise together as well  It's a really important cause to all of us."
They hope to raise awareness among the younger generation who may not feel that HIV/AIDS is relevant anymore. "It's not in the forefront of a lot of people's lives anymore."
"It's one of the most beautiful weeks I've ever experienced. It's great to call this place home."