Cyclists: Pedaling the Route
A Challenge
545 miles will bring out the cheerleading spirit in you, and put your glutes to good use! Climbing hills like Quadbuster – a 15% grade hill! – and the Evil Twins – two (or three, depending on who you ask) peaks of pedaling that lead to the halfway point on the Ride – isn't impossible. We know you have it in you! In fact, we guarantee that the disco music, sparkly tutus, Red Vines, dance breaks, bear hugs, and breathtaking views of the golden state will get you through the toughest moments of the Ride.
Community
Join a community of folks hellbent on ending AIDS. Our teams make sure that pedaling 545 miles is all you have to focus on – we take care of the rest. You'll take in the views alongside thousands of AIDS/LifeCycle community members, meeting new people and learning why THEY chose to spend a week raising awareness about HIV/AIDS (rather than, say, spend a week lounging on a beach – though, we're fans of that too).
Life-Changing
Warning: the Ride will change you. Once you cross the Finish Line, you might feel like you can finally do that thing you've always been afraid to do (errr, besides riding 545 miles in seven days…). But the 545-mile journey is about more than the physical effort – somewhere along the way of raising awareness for our shared cause, and taking care of one another, you learn that showing up as your most sparkly self (read: your most authentic you) is the only way to create the world as it should be.
The Route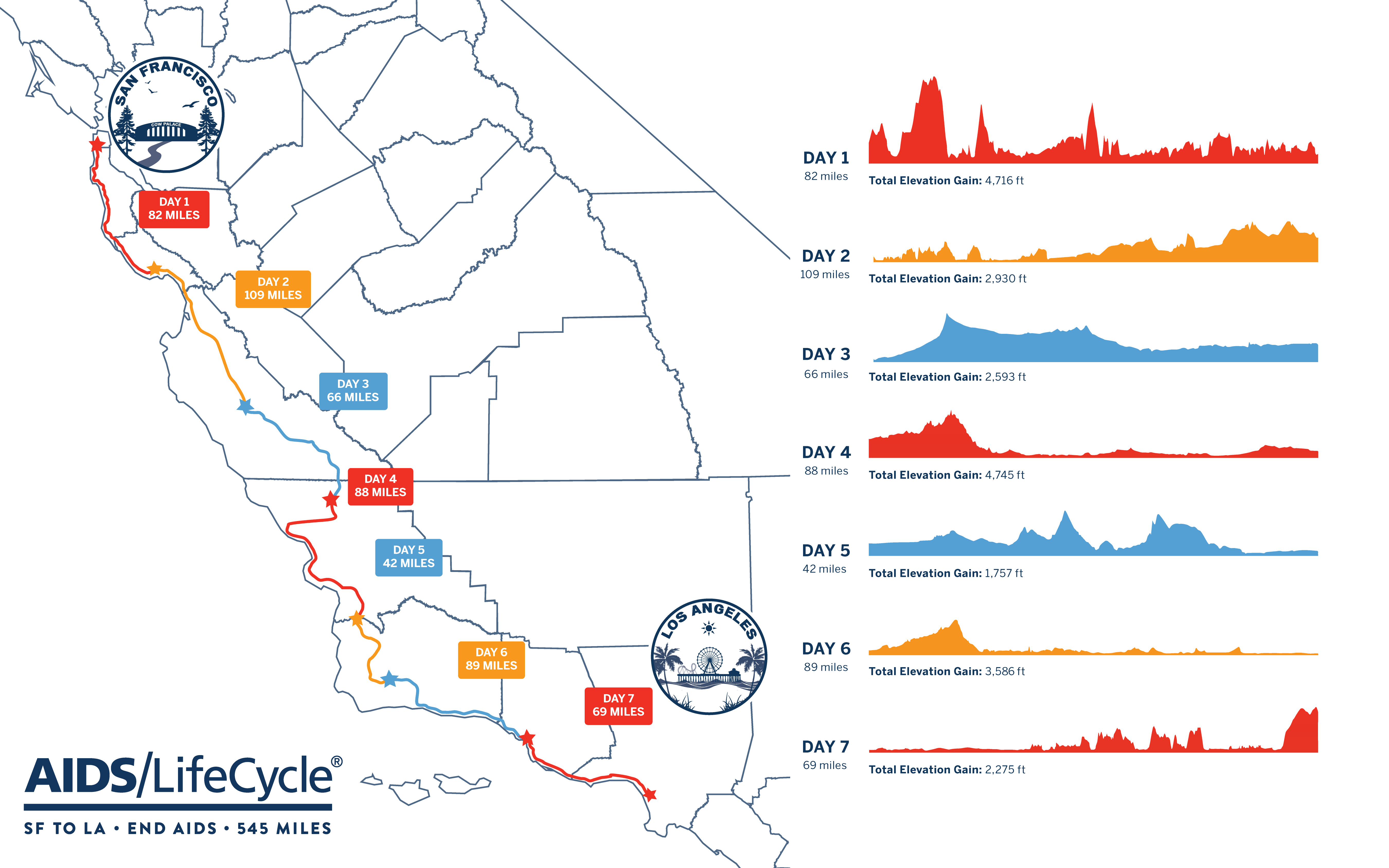 Our Stops:
Day 0, Orientation Day: San Francisco – Cow Palace
Day 1: Santa Cruz – Harvey West Park
Day 2: King City – San Lorenzo County Park
Day 3: Paso Robles – Mid-State Fairgrounds
Day 4: Santa Maria – Preisker Park
Day 5: Lompoc – River Bend Park
Day 6: Ventura – San Buenaventura State Beach
Day 7: Los Angeles – Santa Monica
This event is fully supported by over 600 Roadie volunteers who provide:
Rest Stops every 15-20 miles with water, electrolyte solutions, and snacks

Vegetarian or omnivorous lunch options each day at the Lunch stop, courtesy of Boudin!

Medical support at each Rest Stop

Chiropractic and Sports Medicine assistance at Lunch

20-30 Sweep vehicles to pick you up along the route if needed

Bike-tech support

SAG buses to take you from Rest Stop to Camp if needed
Teams
A team can consist of two or more participants and can be a combination of Cyclists, @Home Heroes, and Roadies. Anyone can join or start a team! Below are some frequently asked questions (and answers) about how teams work.
What are the advantages of being on a team?
Teammates help make the AIDS/LifeCycle experience smooth as (chamois) butter! Being part of a team gives you access to training and fundraising support, keeping you strong, inspired, and creative as you earn your ticket to ride over the course of the season! For a first time participant, a team is a great way to get involved with the AIDS/LifeCycle community.
How do I join a team?
Join an existing team or create a new one when you register for AIDS/LifeCycle! 
Already registered? Contact your Participant Representative and they'll help connect you to the team you'd like to join!
Not sure which team to join? Meet new people and explore different teams by joining training rides organized by AIDS/LifeCycle community members! AIDS/LifeCycle also organizes regular affinity rides for women and BIPOC (Black, Indigenous, and People of Color) in the Bay Area and Los Angeles throughout the season! Check out our events calendar (and organize and publicize your own community rides on it!) to keep tabs on upcoming team and affinity rides in your neck of the woods! 
Already registered, and feeling inspired to start a new team? Your Participant Representative will help you set up your team and walk you through all the tools available to you as an AIDS/LifeCycle Team Captain!
Are Roadie teams the same as participant teams?
Nope! Roadie jobs are broken up into "teams" based on their function such as Lunch Team, Bike Parking Team, Sweep Team, etc. Roadies can still form or join teams with any Cyclist or other Roadie friends!
What is the fundraising requirement for team members?
Each Cyclist on a team is responsible for raising the required minimum of $3,500 by  5/22/2024. While fundraising is optional for Roadies, many choose to do so to support the cause!
Can someone donate to a team?
Donations can only be made to individual participants, and cannot be split among team members or transferred from one participant to another. 
Can a roadie join a team?
Of course! A team can consist of Cyclists and Roadies.
Training
Once registered, you'll gain access to your Participant Center, which is chock full of information about how to prepare for the Ride! In addition to email templates, fundraising tips, and social media shareable, it also hosts a ton of helpful information about safety, training, and the gear you'll need to complete AIDS/LifeCycle!
Training Resources