How can I participate?
There are many amazing ways to participate in AIDS/LifeCycle! Here are 5 awesome ways YOU can get connected to the AIDS/LifeCycle community and find your route to getting involved.
Cyclist
Our Cyclists have guts, dedication, and strength. They ride the 545 miles from SF to LA and fundraise a minimum of $3,500 by 5/22/2024. You'll be paired with a Cyclist Representative who will support your training and fundraising every pedal stroke of the way, no matter your fitness level or fundraising experience. Click here to learn more about registering as a Cyclist on AIDS/LifeCycle.
Roadie
Roadies are the hardworking individuals who volunteer their time for the full week of AIDS/LifeCycle. Every Roadie fills out an interest form after registering and is then placed on a team. For 7 days, these folks dedicate their time, energy, and hearts to waking up very early and going to sleep late to move this event down the coast. Click here to learn more about registering to be a Roadie.
@Home Hero
@Home Heroes are an integral part of the AIDS/LifeCycle community! Not sure you can sneak away from the house or office for a full week to join AIDS/LifeCycle 2023? Not a problem! Our @Home Heroes program is for folks like you: eager to have a role in furthering our mission to end AIDS, but unable to join for the Ride in June. You can even unite your friends or coworkers by starting a team of @Home Heroes to participate together! Click here to learn more about registering for AIDS/LifeCycle as an @Home Hero.
Volunteer
Our volunteers support AIDS/LifeCycle one day at a time! From supporting indiviual Special Events throughout the season to coming out in full-force to help Orientation Day run smoothly, our volunteers meet every challenge with a smile. Click here to learn about the different ways you can be involved as a volunteer!
Donor
AIDS/LifeCycle is all about raising critical funds to support San Francisco AIDS Foundation and the Los Angeles LGBT Center. You can support AIDS/LifeCycle by making a donation, either to an individual participant. You can also make a general donation to the AIDS/LifeCycle General Donation Fund online by clicking here, or download an offline donation form for AIDS/LifeCycle's benefiting agencies: Los Angeles LGBT Center or San Francisco AIDS Foundation. Every dollar counts, and your donations are put to work immediately!
How do I get started fundraising?

Cyclists fundraise a minimum of $3,500 by 5/19/2023. Never fundraised before? you've got this!
You'll have a host of tools at your fingertips to help get you fundraising like a pro:
Your Participant Center is full of social media shareables, email templates, event logistics information, a travel planner, and many other helpful resources
How do I prepare for the Ride?

Whether you're a brand-new AIDS/LifeCycle participant or a seasoned veteran of the road, we have tools to help get you ready to roll! Your first stop will be your Participant Center, which you get access to after registering. Your Participant Center is your one-stop-shop for all things AIDS/LifeCycle: training resources, safety information, fundraising resources, your digital Welcome Booklet, and much more! 
Training is an important component of participating in AIDS/LifeCycle. To get our community road-ready, we encourage our participants to join us for official Training Rides. Training Rides are an important experience in group riding, benefiting your and everyone else's safety. The beauty of AIDS/LifeCycle includes the experience of riding alongside other (awesome!) cyclists – and Training Rides can help you adjust to riding in large groups, learn how to safely pass and be passed, and get accustomed to calling out your intentions and any hazards you may see ahead so that others know exactly what you're doing. Official Training Rides are led by certified Training Ride Leaders. Our Training Ride Leaders are volunteer AIDS/LifeCycle veterans who will teach you how to have a safe, successful ride – from cycling basics to mileage training and more!
Check our calendar for upcoming Training Rides. No registration is necessary to join us for a ride, so if you're testing the waters before signing up, this is a fantastic way to meet our amazing community!
What about safety on AIDS/LifeCycle?
Due to the varied levels of cycling ability within the AIDS/LifeCycle community, it is crucial that everyone adheres to the safety pillars. Your safety, as well as the safety of those around you depends on it.
We take safety seriously and ask that you do too. Please become familiar with the AIDS/LifeCycle Safety Pillars below – they are guidelines to help you stay safe while riding alone or in a group. Click here to learn more about safety along the route, and watch these safety videos.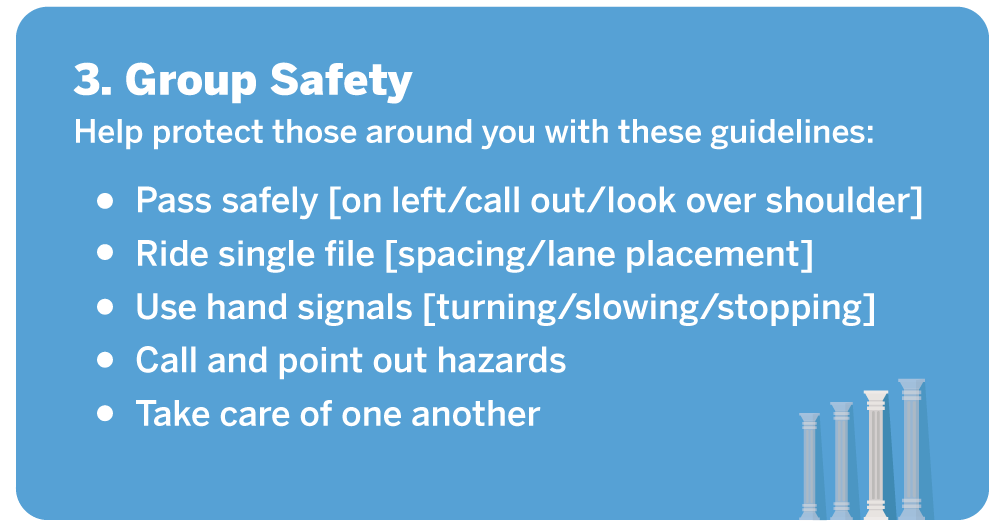 When will I have to arrive in San Francisco for AIDS/LifeCycle?
Orientation Day (O-Day) occurs the day before Ride-Out at the Cow Palace (2600 Geneva Ave, in Daly City) and will serve as your primer for what to expect during AIDS/LifeCycle. Orientation Day can last all day Saturday, so plan to arrive the day before. Note that – Orientation Day is mandatory for all Participants, and full details will be released later in the season.
During Orientation Day, all Participants are required to attend a Participant Orientation Meeting. If you are a Roadie, you'll also participate in the All Roadie Meeting. You will receive more information about sign-up times as the event date approaches.
Participants must arrange their own travel to San Francisco before Orientation Day and from Los Angeles following completion of the Ride. In addition, Participants are responsible for transporting their bikes on and off the Ride. Be on the lookout in your Participant Center as we get closer to the Ride for guidance on airfare and transportation, hotels, bike shipping resources, and tips on everything you need to pack for your 7 day journey!
What COVID-19 precautions are being taken?
At AIDS/LifeCycle, we are committed to providing a safe experience for our participants, volunteers, vendors, staff, and the communities that welcome us. Please review our 2023 Covid Policy.
The guidance for COVID-19 safety is ever-changing. In addition to vaccine requirements, we are continuously monitoring and will adhere to, the latest guidance for masks, social distancing, and other protocols as outlined by the CDC, California Department of Health, and the local authorities/agencies where we gather.