Careers
Where else can you develop a rewarding career, work side-by-side with talented people, and help enable a community to make a difference in our world?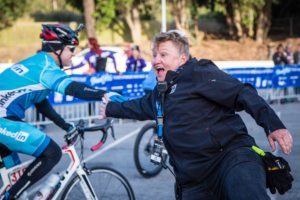 We're hiring! Check out our career opportunities below:

San Francisco based positions:
Regional Director, Northern California: The Northern California AIDS/LifeCycle (ALC) Director will be responsible for developing and implementing best practices to maximize recruitment, retention and revenue for the NorCal region of AIDS/LifeCycle (with shared responsibility for the Out of State region). They will develop and implement additional revenue opportunities to further enhance SFAF revenue while creating opportunities to convert loyal Northern California AIDS/LifeCycle participants and donors to SFAF supporters;  Report bi-annually on NorCal strategies and progress to the Leadership Teams. The Northern California ALC Director will oversee AIDS/LifeCycle recruitment and cycle rep staff and manage day-to-day activities of the department which includes oversight of the participant experience and related programs/initiatives. Responsible for working with the Ride Director of AIDS/LifeCycle on creating realistic budgets and ensuring budgeted revenue goals are met. Click here to apply!
Cyclist Representative Manager: The AIDS/LifeCycle (ALC) Cyclist Representative (CR) Manager is responsible for front-line customer service and year round retention of cyclists. This position is responsible for leading the San Francisco-based CR team to meet and exceed participant fundraising and retention goals.  Click here to apply!
Los Angeles based positions:
Marketing Manager: The AIDS/LifeCycle Marketing Manager works with the Marketing Director and Digital Marketing Manager to help develop and execute an integrated marketing and media plan for AIDS/LifeCycle. Click here to apply!
Cyclist Representative: The Cyclist Representative position is the front-line customer-service representative responsible for offering ongoing training and support to an assigned base of registered AIDS/LifeCycle participants. This position is accountable for ensuring that the fundraising and retention goals for their assigned participant base are met through moves management methods. Click here to apply!