Careers
Where else can you develop a rewarding career, work side-by-side with talented people, and help enable a community to make a difference in our world?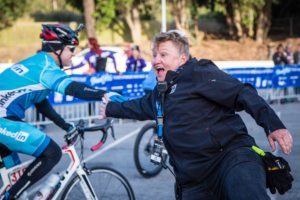 AIDS/LifeCycle is currently hiring!
Outreach Coordinator (LA)
Under the supervision of the AIDS/LifeCycle Senior Outreach Manager, the Outreach Coordinator works to implement & execute ALC recruitment efforts in order to meet yearly registration goals for both Southern California and Out of State. Assists in organizing and attending various outreach events as they relate to participant recruitment including, but not limited to, outreaches at gyms, indoor cycling studios, businesses/industries, and communities.
Cyclist Representative (SF)
As part of the San Francisco based Cyclist Representative Team, the Cyclist Representative stewards AIDS/LifeCycle participants to meet and exceed fundraising goals. The position will be also be responsible for collaborating on and leading fundraising efforts through ownership of one or more committees. Click here to see the full position description, and apply!
Supplies Coordinator (LA)
The ALC Supplies Coordinator is primarily responsible for the accurate accounting, coordination, organization, and execution of all Ride-related supplies and materials purchased, rented, acquired, or owned by AIDS/LifeCycle for the annual ALC event. The position supports the planning and execution of the Ride's Upload and Download processes (supply and equipment mobilization), including managing the Ride's inventory both on Ride and throughout the year. This role calls for someone with laserbeam focus; and has a passion for organization and attention to detail. Click here to see the full position description, and apply!